ABWAB – By refugees and for refugees, ABWAB ("Doors") is the only nationwide newspaper for the Arabic-speaking communities living in Germany.
With its 50,000 monthly copies distributed all across Germany, over 310 thousand monthly web pages, and 113,000 FB Likes, the Abwab newspaper, website and Facebook page reach the over 1.2 million Syrian and Iraqi newcomers and other Arabic-speaking communities in Germany in their own language effectively and consistently since 2015.
The first issue of Abwab, released in Dec. 2015, was swiftly hailed as the editorial product of year by international media for the relevance of the publication in a continent dealing with an unprecedented surge of migrants and grappling with the challenges of integration.
The mission of the Abwab team, made up by prominent secular Syrian artists and intellectuals living in Germany, is to provide Arabic speakers newly arrived in Germany with the means to understand German – and indeed European – cultural and legal codes in order to facilitate integration and everyday life in their new country.
At the same time, Abwab honours and celebrates the dignity, the resilience and the efforts of people and communities that have gone through tremendous ordeals to find freedom, security and, once again, happiness for themselves and their families.
***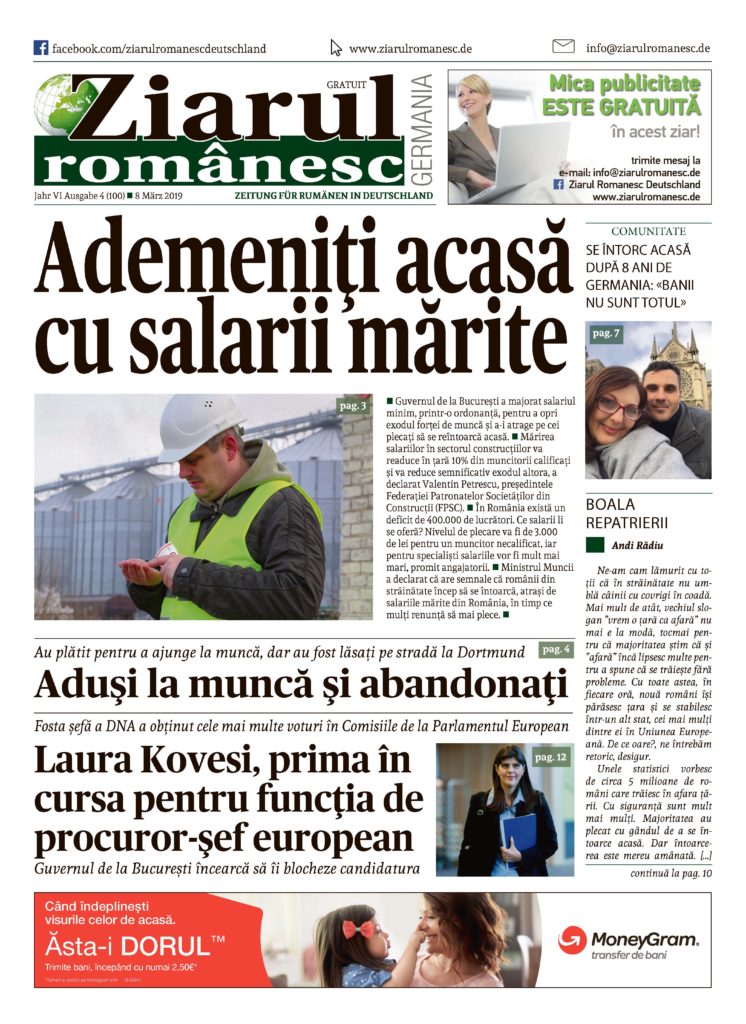 Ziarul Românesc Germania – Ziarul Românesc Germania was launched in Frankfurt in 2014 and is the only nationwide newspaper for the Romanian community in Germany.
It is a free fortnightly newspaper in Romanian language distributed in 15.000 copies to +150 across Germany.
Distribution is carried out in areas with high concentration of Romanian residents: in Eastern European shops, at Romanian church services, at money transfer shops, in coaches and key areas in major cities.
Copies are displayed for clients at Romanian businesses on shop counters, stowed in news bins and handed out by community members at Romanian church services.
Circulation grows organically as new distribution points are added.
Each issue contains information on German immigration policy, reports and interviews from the local community, in-depth analysis of events happening back home in Romania, easy-to-read guides on German legislation, classified ads,
Ziarul Românesc Germania's website ziarulromanesc.de has 150,376 users and 240,564 sessions.
Ziarul Românesc Germania's Facebook page has 31.930 likes.